Hello My Fantastic Friends! (See the aliteration!)
Today we are going to learn about Flipgrid! Click on the link and follow the directions! We are going to be using Flipgrid to answer questions about our Literature, explain and define our math concepts, and learn about eachother!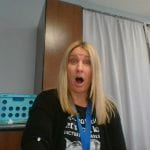 ALERT!! Here is a mixtape of the Best of the Best of our first FLIPGRID! They were all so great, but these examples show great volume, creativity and gave a lot of information about themselves!!  ENJOY!